Welcome to Souderton Area School District's Community Bulletin Board.
Use the links along the left to learn how to get your flyer included in our bulletin board.
***CBB is the District's paperless alternative to distributing hard copies of flyers in schools; hard copy flyer distribution in schools is no longer permitted***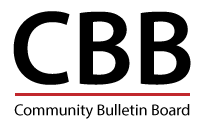 Find information from local non-profit organizations for parents and students.
Quickly locate Web links to many community organizations.
Click on the flyer link to see the details of the event.
For additional information, please contact Renai Cardillo via telephone at 215-723-6061 ext. 10200 or e-mail at rcardillo@soudertonsd.org